I. Choose the Right Silicone Rubber for Your Projects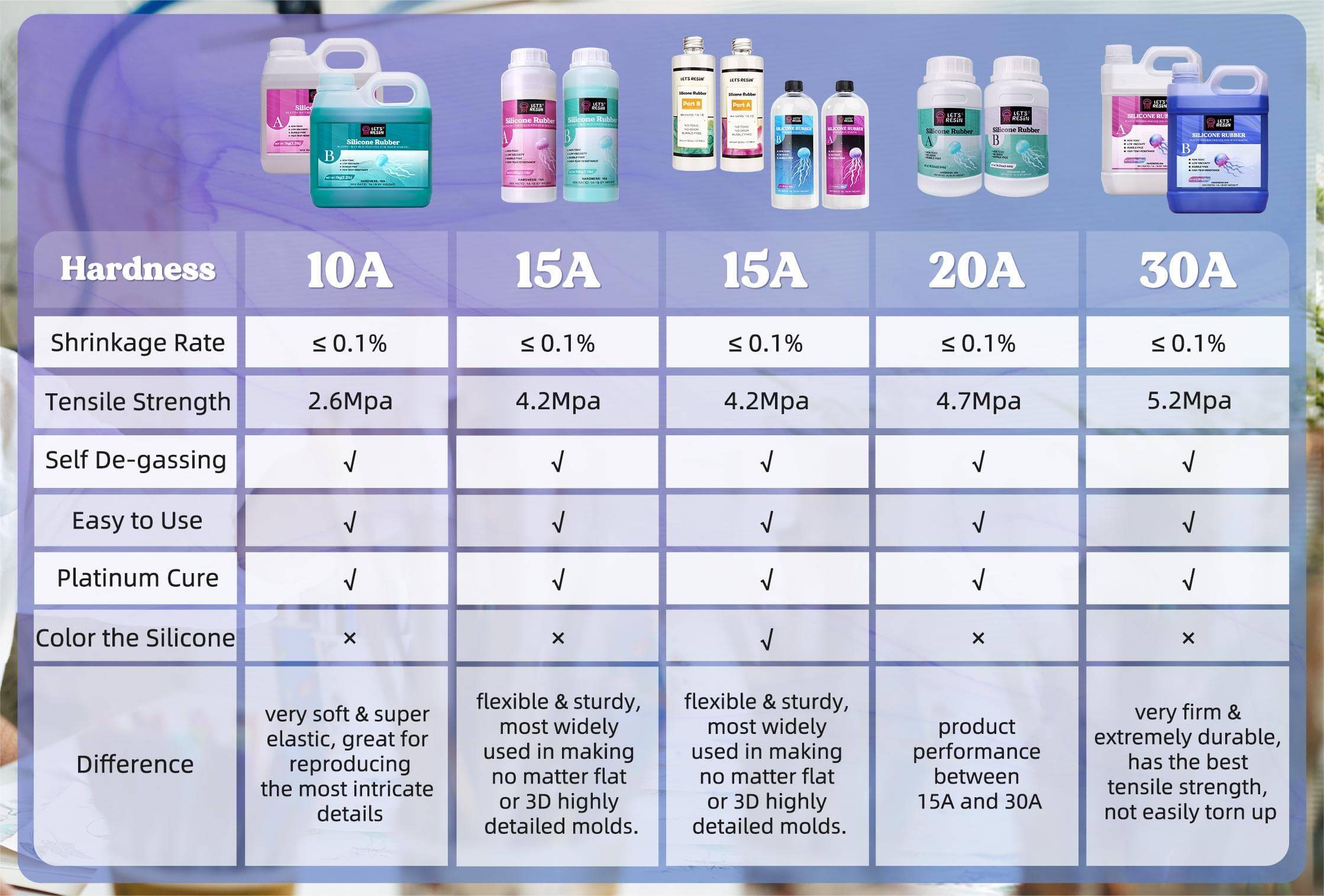 Note:
The liquid silicone rubber should be sealed after use.
If there are any silicone spills, please use soapy water to clean or wipe off with rubbing alcohol.
If the silicone gets frozen, please make it to room temperature before use.
Theminimum quantity of part A and part B is no less than 30 grams otherwise it may not cure.
If the surface of the silicone is sticky, try to extend the curing time for 1 or 3 more days.
II. Different Ways to Make The Frame
1. Use Mold Housing:easily form 6 different shapes
2. Use LEGO Bricks
Use Lego bricks to build the shape you need. Fix them on the top of a film. Seal the exterior with the hot melt glue, NOT the interior.
*Direct contact with the hot melt glue may lead to the silicone uncured.
3. Use Cookie Cutters
There' re more methods to make the mold box, please kindly view the videos on the product page.
IV. FQA
1. Can I use the mold made by this silicone to cast UV resin?
Yes, if the silicone rubber is fully cured, you can use it to cast UV resin.
2. Can I color the translucent silicone?
Yes, you can add mica powder or silicone rubber pigment specifically for silicone rubber. Do not adding too much colorant or cure inhibition may occur.
3. Do I need to spray the master model with mold release?
No, mold release agent is not necessary.
4. How do I know the amount of silicone I need?
5. Why does silicone has a sticky finish or non cured?
These are the main causes:
1). Inappropriate Master Model:
If you found the cured silicone mold may appear fine from the outside, but the inside which is in contact with the master model is gooey and not cured at all. The master model is probably the reason caused the silicone non-cured.
If you found the surface of silicone is sticky, but the inside is cured. The cause may be the silicone is not mixed evenly when stirring, you will need to scrape the bottom and the side of the mixing cup.
But it's also possible that the silicone is in contact with some poisonous substances during processing.
In this situation, you can extend the curing time to at least 48 hours to even 2 weeks to see if it's fully cured.
2). Improper Operation:
a. Inaccurate mixing ratio or not mixing
b. Insufficient curing temperature and curing
c. Workingenvironment or the mixing container or mold housing contains harmful substances which cause the platinum silicone inhibition reaction.
6. How different temperatures affect silicone curing?
7. Can Platinum cured silicone be heated tocure?
Yes, platinum cured silicone will cure quicker with the addition of mild heat, ut the heat will also cause lots of bubbles. You will need to degas the bubbles first before heating. If you want to heat platinum cured silicone, you can cure it at 150°F for about 30 minutes in a dedicated oven. You will need to make sure the master model is oven-safe.
8. If I want to mold an SLA print resin or other master models (which can cause cure inhibitions), what can I do?
The easiest way is to use tin-cured silicone.
If you still want to use platinum-cured silicone, you may coat it with several layers of clear coat or varnish or lacquer or primer base. However, this method may not work for all kinds of resin. ( water washable ones cause lots of cure inhibition). Some customers recommended using anti-Inhibitors called inhibit X to prevent inhibition.
And sanding and polishing a piece also helps to reduce cure inhibition.
Please always test it first before using a large quantity of silicone due to the variety of uv resin and the complexity of chemicals.
Besides, applying a coating on other types of master models may work or not work. If the master model contains high amount of sulfur or similar inhibitors, the platinum cured silicone may not cure either.
You can try the inhibit X too. Again, testing is always needed.
The last option is that If you still want to have a platinum silicone mold, you can always use the master model to make a tin cure mold, then use the first casting from that mold to make the platinum cure mold.